5 Reasons Why You Should Go Watch Kimberly Akimbo on Broadway
10th November, 2022 | By Ishita Mukherjee
Kimberly Akimbo is a heartwarming and gut-wrenching musical, adapted from David Lindsay-Abaire's 2001 comedy play of the same name, centered on a 16-year-old with a rare genetic disease - one that makes her age rapidly. Kimberly is a teenager at heart but presents as a 70-year-old woman, going through the ups and downs and complications of a teenage life. She doesn't have long to live, the average life expectancy of someone with her condition being, painfully, 16 years of age. But no matter the adversities - problems within the family, run-ins with temperamental personalities, and even potential felony charges, to name a few - she strives to be positive and seeks out happiness in a race against time. The Kimberly Akimbo musical is a must-watch on Broadway.
The Performances
Victoria Clark, who plays the central character of Kimberly Akimbo, is on a league of her own. Clark, a Tony Award winner, puts magic into this character who is a teenager stuck in the body of a septuagenarian, and brings out the nuances of her experience. All the while, she keeps up with the sidesplitting comic timing of the narrative. The Kimberly Akimbo musical will have you in rapt attention throughout its 2 hour 25 minutes run time.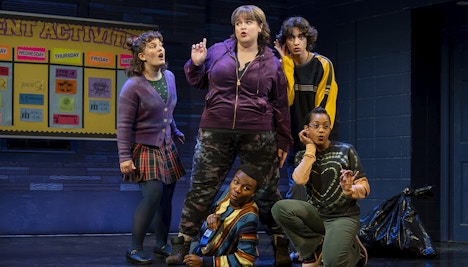 The Script
It is not easy to make a comedy musical out of a story about life being sucked out of a teenager who should've been at full bloom at her age. Yet, somehow, the brilliant team of David Lindsay-Abaire, Jeanine Tesori and Jessica Stone manages just that. The Kimberly Akimbo musical is equal parts uproariously funny and tragically gloomy. The spectre of a life ending too soon hangs in the empty space of the stage continuously.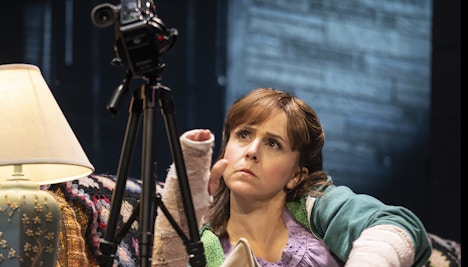 The Aesthetics
The 1990s Jersey aesthetic is spot on in the Kimberly Akimbo musical. The somewhat questionable outfit choices - lots of beads, stripes, and dresses worn over jeans - capture a yesteryear that is painfully nostalgic but also represents a vibrant time bustling with youthful innocent energy. The bean bags and ice rinks ornamenting Kimberly's life will soon be left behind - both by Kimberly and time itself.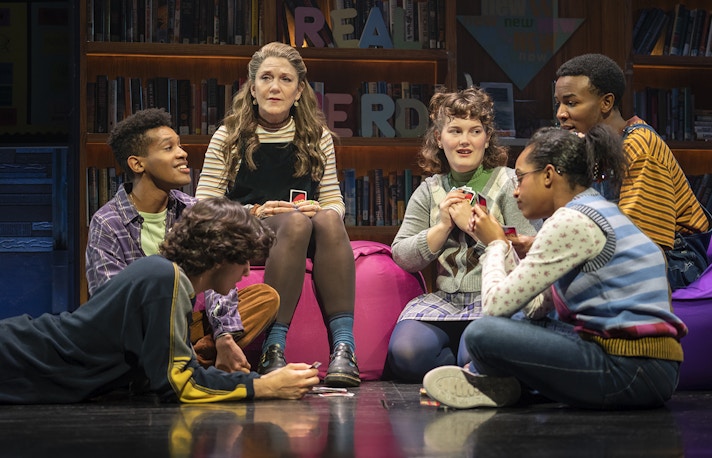 The Themes
The prospect of a dying teenager is not the only 'serious' theme that the Kimberly Akimbo musical deals with. She suffers from neglect from her parents - a pregnant mother who clearly wishes for a 'better' child and a father who is teetering on the edge of alcoholism - and even gets embroiled into a shady money-making scheme due to her aunt. But just like the rest of the story, even these elements are treated delicately and with care.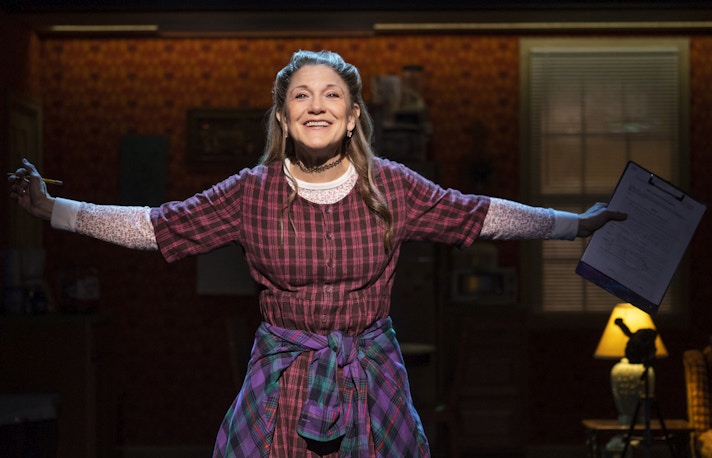 The Music
David Lindsay-Abaire and Jeanine Tesori have co-written the lyrics and Tesori has penned the music in the Kimberly Akimbo musical. In a musical, expectations from the songs are sky-high. The team has surely been able to fulfill these expectations. The songs are full of emotion and have an air of 1990s youthfulness - they punctuate every aspect of Kimberly's story. Paired with this is Victoria Clark's modulated soprano, something that suits a slightly awkward grace of a teenage character perfectly.
Full justice can only be done to a musical like Kimberly Akimbo if one sits at the Booth Theatre and experiences it first hand. The talent emanating from the stage is reason enough. So get your Kimberly Akimbo musical tickets today!
Ishita Mukherjee

Ishita has been called dramatic all her life. Finally, she has decided to embrace it professionally. Being a student of literature, she has always been addicted to stories — those which she has heard a hundred times as well as those which have been freshly woven. If you find her staring into the horizon, mouth just a little agape, it is likely that she's imagining her life turning into a jukebox musical.